­­Focus on solar photovoltaics in Quebec and its bright future
On May 13, 2021, Nergica published the first in-depth study to be conducted on the potential of solar photovoltaics (PV) and its role in the Quebec energy mix. The report highlights both successes and failures observed in Quebec and across Canada, as well as elsewhere in the world, in order to formulate recommendations on how best to go about integrating solar PV while taking into consideration the specific characteristics of the province.
This reference work notably aims to help structure the solar PV sector in Quebec in addition to developing a market and value chain. The study is intended for political and regulatory decision-makers, the solar PV industry as well as the research community and potential users of solar technologies.
It was made possible with financial support from Canada Economic Development for Quebec Regions and aims to promote the energy transition. While solar photovoltaics is gaining momentum around the world – cumulative installed PV capacity represented approximately 23% of global renewable energy production in 2019 – Quebec has been slow to adopt this technology. And yet the province has everything to gain!
At the release, highlights of the study were presented by the senior project manager and thematic panels consisting of 10 experts entertained discussions about PV's promising future. Quebec solar continued to sparkle all afternoon through Braindate networking sessions with a number of industry members.
Quebec has (solar) potential!
Although it may be come as a surprise to some, Quebec enjoys similar irradiation levels as those of Japan and Germany, which are global leaders in the field of solar PV. With geographically isolated regions like Nunavik and the Magdalen Islands, the territorial specificities of the province represent opportunities for deploying solar to reduce the use of fossil fuels currently consumed by these off-grid regions.
Solar PV is thus poised to represent an increasingly significant portion of the Quebec energy mix, but in order for this to happen, the province must act quickly to create a favourable environment to stimulate the sector's development. The time is therefore ripe to create a value chain similar to what was done for wind, especially considering that PV is an increasingly competitive energy source.
In fact, "the costs of PV technologies have come down significantly over the past ten years, making solar a competitive and all the more attractive form of energy for Quebec. In fact, by 2030, solar will be comparable if not cheaper than other available renewable energy technologies in Quebec," pointed out Nergica's senior project manager for research and innovation Karim Belmokhtar at the opening presentation.
Solar also has the advantage of being simple to deploy and operate, unlike other resources such as hydro or wind with their more elaborate facilities and more complex logistics.
The conclusion of the study is unequivocal: Quebec enjoys a strong solar potential that currently remains unharnessed. Thus, there is a place for solar in Quebec's energy portfolio and for an ever-growing number of applications. This message resonated throughout the day and was supported and illustrated during the panels in which 10 experts participated.
Panel 1: What role does solar currently play in Quebec and what will the situation be in 2030? 2050?
Panelists:
– Philippe Dunsky, President, Dunsky Energy Consulting
– Gabriel Durany, Chief Executive Officer, Association québécoise de la production d'énergie renouvelable
– François Morin, Director-Development, Innergex
– Josée Pilon, Department Head – Development Project Planning – Energy, Hydro-Québec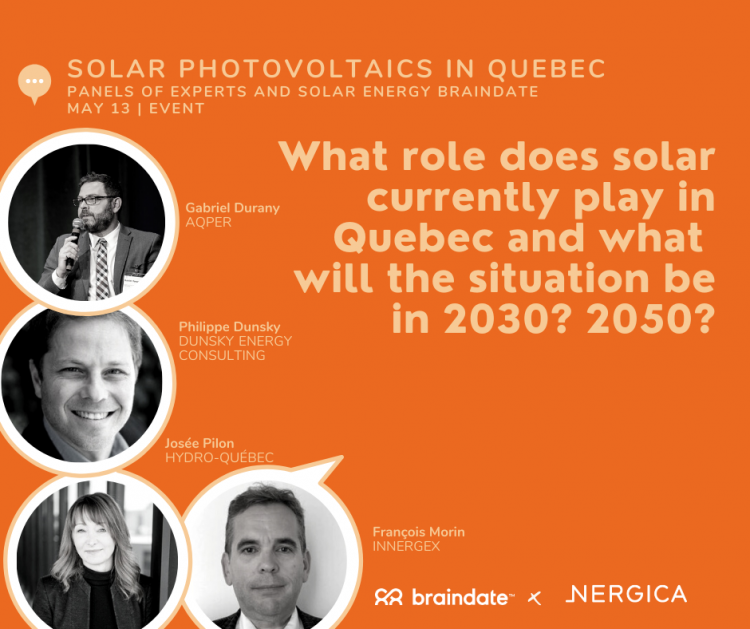 In the context of the energy transition and an anticipated energy shortfall by 2026, solar has strong potential.  The panelists gathered for the release of the study aimed to stimulate discussion of the future of Quebec's PV sector as one of the solutions of the energy transition.
According to Philippe Dunsky, solar has yet to take off in Quebec due to low electricity rates, the lack of urgency to invest in new technologies in the context of an energy surplus, and the relatively benign environmental footprint of the hydro power produced in the province. Additionally, wind power is more competitive in the short term. However, solar is set to carve out a niche for itself in Quebec in the years to come.
François Morin is also convinced of a promising outlook for solar. He argues that creating a value chain will be one of the challenges of developing the sector in Quebec. As discussed by Gabriel Durany, much remains to be done in the way of research in order to consolidate the solar sector. Additionally, the falling costs of PV modules bode well to propel the industry forward and help governments reach their carbon neutrality targets. Mr. Durany points out, however, that there is a lack of incentives and financial benefits to drive the industry in the province. In fact, for many investors, installation costs are a barrier, and the savings associated with self-generation are not overly enticing at the current time. The need to adapt Quebec's regulatory framework was also raised.
According to Josée Pilon, there are two other major challenges that will have to be addressed in order for solar to gain ground in the province and in the eyes of the general public: PV module recycling and social acceptability. These two issues have often been neglected but warrant greater consideration, according to Ms. Pilon, who coordinated the construction of Hydro-Québec's solar facilities in La Prairie and Varennes. Another idea put forward by Ms. Pilon is to focus on making the most of land such as roadsides, airport zones and brownfield sites to install solar power plants.
Panel 2: Potential of solar PV for off-grid networks
Panelists:
– Olivier Arsenault, Engineer – Off-grid Network Planning, Hydro-Québec Distribution
– Jean-Michel Leblanc, Project Manager, Energy Efficiency and Development, Municipalité des Îles-de-la-Madeleine
– Yves Poissant, Research Manager and Senior Photovoltaic Technology Specialist at CanmetENERGY, Natural Resources Canada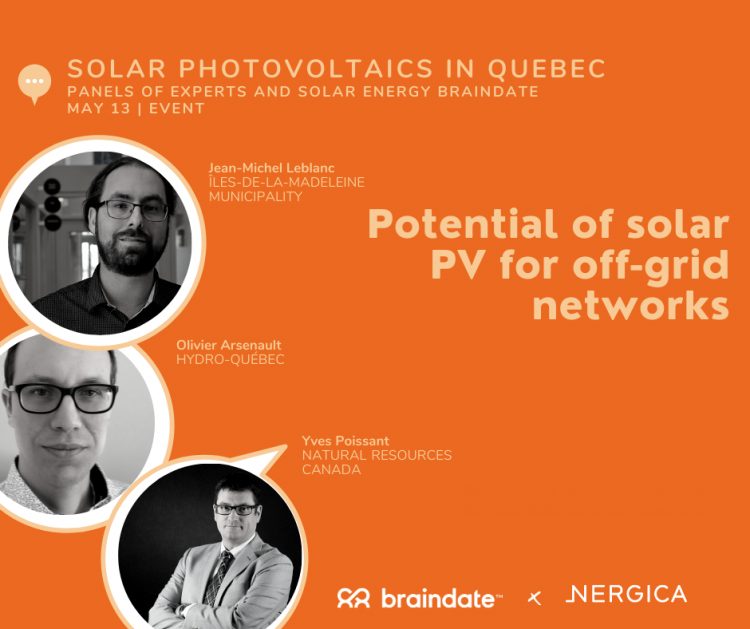 In remote regions, many communities rely on diesel generating stations since they are unable to connect to the main grid. As a result, they produce approximately 223,000 tonnes of greenhouse gases (GHG) per year. Integrating solar is particularly relevant and advantageous for such locations.
The three panelists emphasized the specific aspects of projects completed in off-grid networks, which are not always straightforward and often come with their share of twists and turns. The importance of involving the community from the very start of the project was underscored as being critical. Jean-Michel Leblanc emphasized the vicious cycle that hampers the deployment of wind turbines and solar modules in geographically remote areas such as the Magdalen Islands, whereby the lack of skilled labour and the need to import material is an obstacle to the uptake of these technologies.  His fellow panelists confirmed the existence of such aspects regarding projects undertaken in other remote regions. That said, the energy, environmental and social benefits justify the effort required to overcome these challenges!
The absence of a solar market in Quebec explains the difficult access to material and the shortage of human resources with the necessary expertise. Jean-Michel Leblanc and Olivier Arsenault pointed out, however, that solar is viewed favourably in the province. Nevertheless, certain difficulties can arise on occasion, beginning with the choice of land or rooftops on which to install the modules. This is one challenge that is particularly acute in Nunavik, where many residents do not own their own dwelling. Siting projects also represents a major issue since selected sites must meet numerous criteria including solar exposure, relief, site preparation work required, and distance with respect to the homes.
Variability in the production of solar (or wind) installations due to seasonality and meteorological conditions means that integration of storage systems is essential to replace fossil fuels in off-grid communities. "Installation costs can therefore double," affirms Yves Poissant, who goes on to add that one of the advantages of solar is its scalability and the fact that the size of the system can easily be adapted to local requirements.
Panel 3: Self-generation of solar PV for residential and commercial building sector
Panelists:
– Patrick Goulet, President, Énergie solaire Québec
– Jean-François Jaimes, Director, Development and Renewable Energy, Énergir
– Mike Perrault, President, Rematek Energy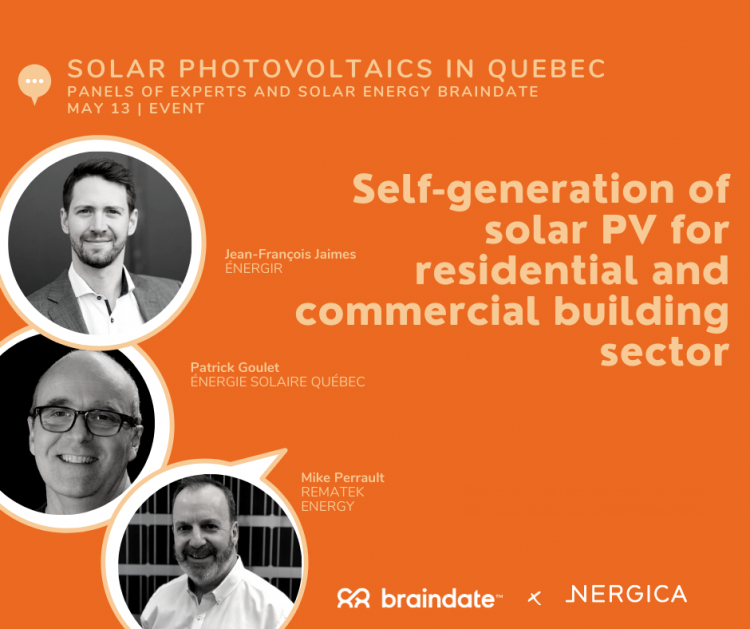 Worldwide, energy production is trending toward decentralization, observes Jean-François Jaimes. The absence of financial incentives such as tax credits is one element that was touched upon by several of the panelists. This lack of financial assistance is particularly evident in the case of residential or commercial installations, where the economic or environmental benefits of shifting from grid-distributed hydro to solar are less striking. Mr. Jaimes also indicates that RFPs might help enhance the solar value chain. Solar PV will therefore grow in popularity for residential and commercial applications provided that module efficiency, storage, control and management continue to improve, suggests Mr. Jaimes.
Research must also make considerable progress in terms of PV module installations on grid-connected buildings. Mike Perrault affirms that early solar success stories in Quebec such as the Varennes library with its integrated panels boost confidence and will give rise to other projects by removing the barriers to the development of this technology.
This type of pioneering project also opens the door for further research and innovation to satisfy customers' needs and requirements. For this reason, Patrick Goulet shifted the conversation to building-integrated PV systems (BIPV), whose costs are trending downward and which help address a number of constraints and needs. He also advises would-be self-generators to contact Hydro-Québec from the earliest stages of their project in order to better plan their installation and to familiarize themselves with potential opportunities and benefits.
Solar power in Quebec: part of the solution
This energy source represents an additional tool in Quebec's energy transition arsenal, as it offers noteworthy economic and energy benefits in a number of sectors, including the electrification of off-grid networks as well as residential and commercial self-generation.
Solar PV is set to expand in Quebec over the next few years, in addition to representing an asset in the province's energy mix. Furthermore, PV paired with hydro and wind could enable Quebec to reach its target of reducing GHG emissions by 37.5% below 1990 levels by 2030 while at the same time positioning the province as a North American leader in renewable energy.
"We've got to get the ball rolling and that's about to happen!" declares François Morin with enthusiasm and conviction.
———————–
Study Solar PV in the Quebec Energy Mix – Analysis and Outlook
Recording of panels (in French)
Further reading:
Le Québec a intérêt à miser sur le solaire, conclut un rapport – Le Devoir, May 2021
Le Québec n'a pas le choix de se tourner vers l'énergie solaire – Journal 24h, May 2021
Le solaire photovoltaïque aussi concurrentiel qu'Hydro-Québec d'ici 2030 – Les Affaires, May 2021