Gaspé community of Gesgapegiag shows remarkable leadership
A not-to-be-missed complex on Route 299 in the Parc national de la Gaspésie and a well-known rest stop for outdoor enthusiasts and snowmobilers, Relais de la Cache is now also making a name for itself with its renewable energy innovations. 
Since summer 2021, thanks to a microgrid consisting of 108 solar panels installed with Nergica's help, this tourism complex operated by the Mi'gmaq community of Gesgapegiag has been powered by green energy.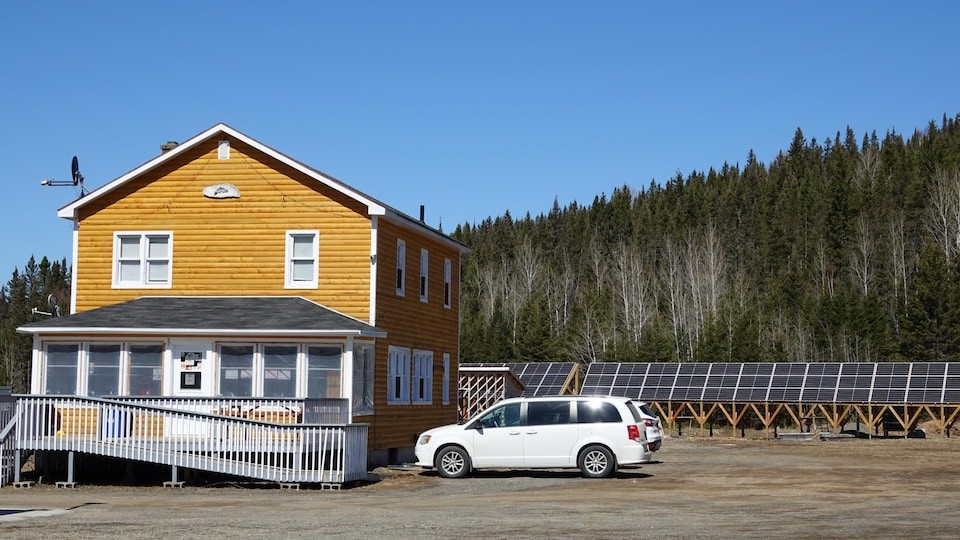 Relais de la Cache and its solar array
Photo: Radio-Canada / Isabelle Larose
Investment for a greener future
Due to its remote location, Relais de la Cache cannot be connected to the Hydro-Québec grid. For this reason, until recently the complex relied on fossil fuels. With its three solar PV installations and a total installed capacity of 43.7 kW, the microgrid is expected to meet 80 to 100% of the complex's energy needs and reduce diesel consumption by 10,000 to 12,000 litres a year. This represents an annual offset of 27,000 to 32,000 kg of CO2. The panels are set up in such a way to capture sunlight from dawn to dusk. The microgrid is also fitted with a 307 kWh storage system that uses lithium-ion batteries and can supply two days' worth of electricity.
A thermal storage system has also been integrated into the microgrid. It comprises two boilers – one propane and the other electric – that provide heat and hot water to meet building needs. One of the particularities of the Relais de la Cache installation is the presence of two integrated networks: one electric and one thermal. According to Nergica project manager Mauricio Higuita Cano, this is a unique project in the Gaspé Peninsula. 
In case of absolute necessity, two propane generators can meet electricity demand and charge the batteries if the solar system is unable to do so.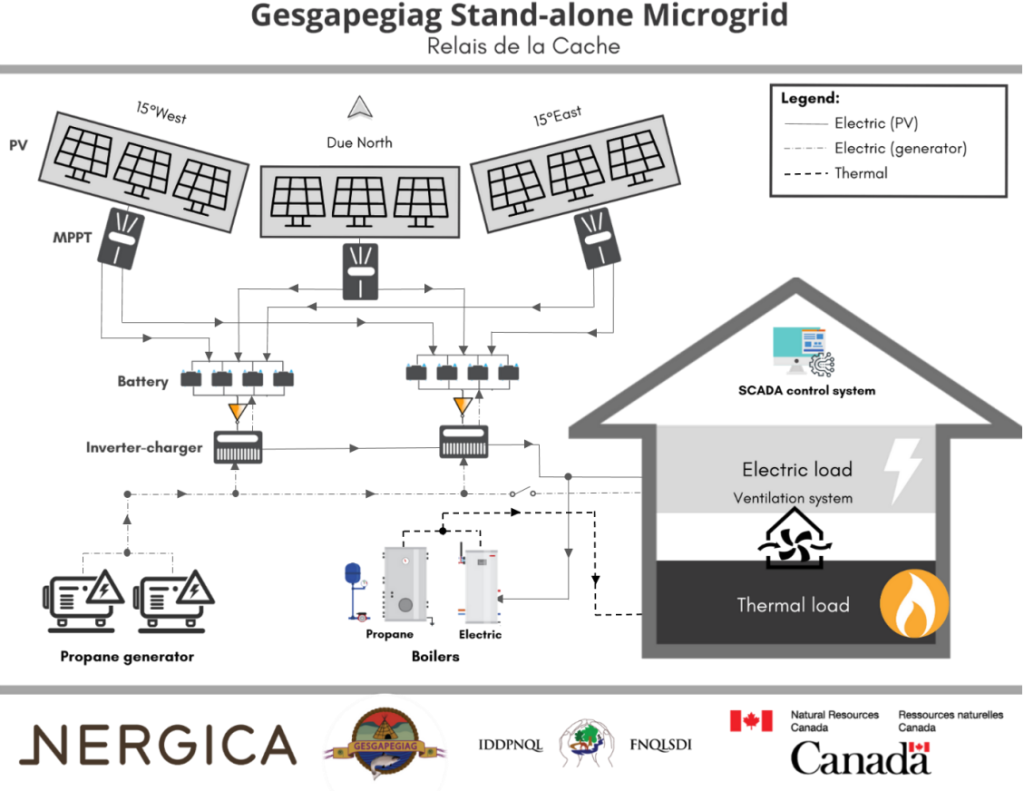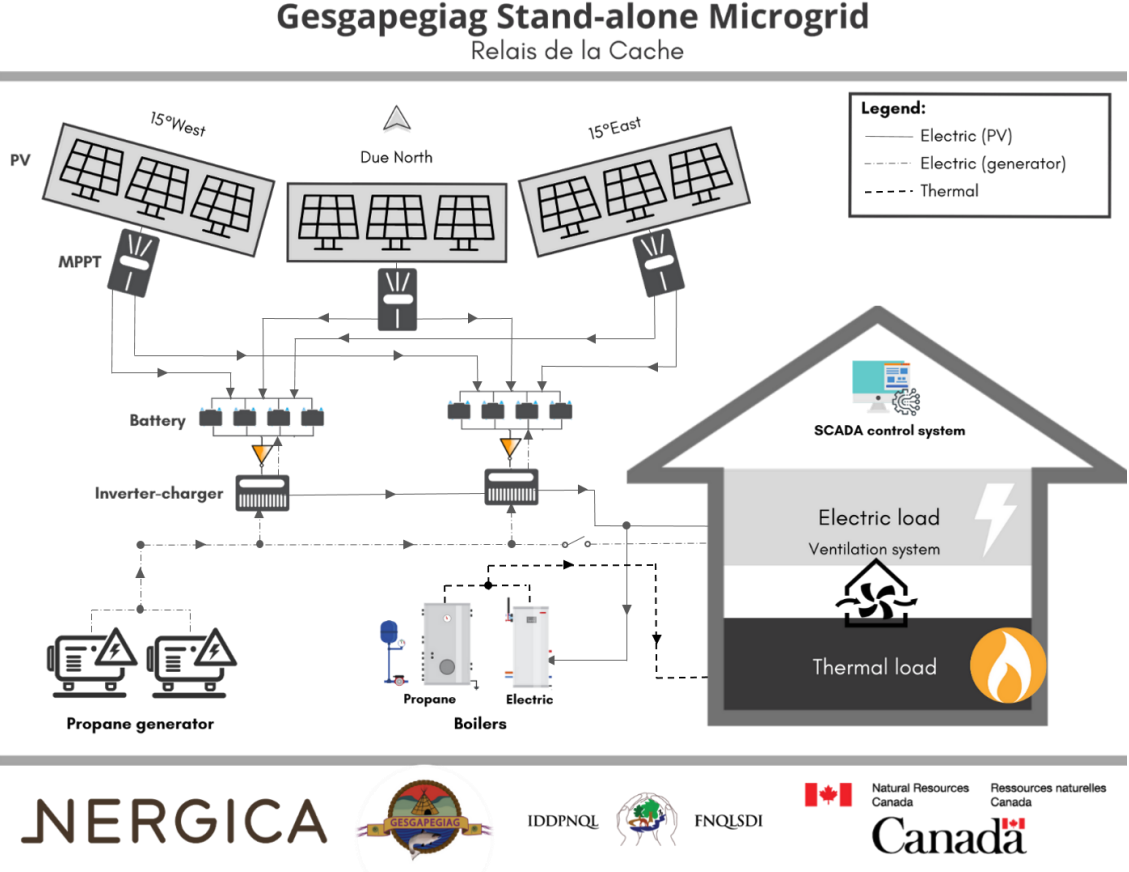 Diagram of Relais de la Cache microgrid
Community initiative for technological innovation
Concerned by its environmental footprint and aware of the negative impact of diesel generators on the environment, the community of Gesgapegiag partnered with Nergica to facilitate a shift toward renewables. At an estimated cost of $1.3 million, the project was completed with the support of Natural Resources Canada and the First Nations of Quebec and Labrador Sustainable Development Institute. Nergica has been supporting the community of Gesgapegiag in the technical aspects of the microgrid project, namely its design, construction and installation. 
Trendsetter and model for innovation
Through this project, Gesgapegiag aims to develop its expertise in clean energy production and energy efficiency. The community would like to see the integration of renewables at Relais de la Cache become a model that might be later replicated by other First Nations as well as off-grid sites in Canada. "I would like it if when other communities in Quebec, or even elsewhere in Canada, see that […], they say 'Wow! we could do that, too,'" states Bonnie Jerome, a Gesgapegiag community member dedicated to economic development, in a Radio-Canada broadcast (in French).
Indeed, it was precisely to hone their knowledge that community members were involved in every stage of this project. Nergica will also train community members so that they can familiarize themselves with the various components of the system and therefore effectively manage and operate the microgrid. In this context, Nergica project manager Pierre Beaudoin, who also worked on the facility, explains that approximately twenty people participated in this initiative and expanded their technical skills in the process. Gesgapegiag will be able to share its knowledge and advise other communities on how to integrate renewables. Gesgapegiag and Nergica are already engaged in knowledge transfer and the mobilization of other communities to replace diesel generators with green alternatives. For example, in February 2021, Bonnie Jerome and Nergica presented technical solutions available to remote communities as well as lessons learned during the Relais de la Cache project at the conference organized by the First Nations of Quebec and Labrador Sustainable Development Institute (FNQLSDI).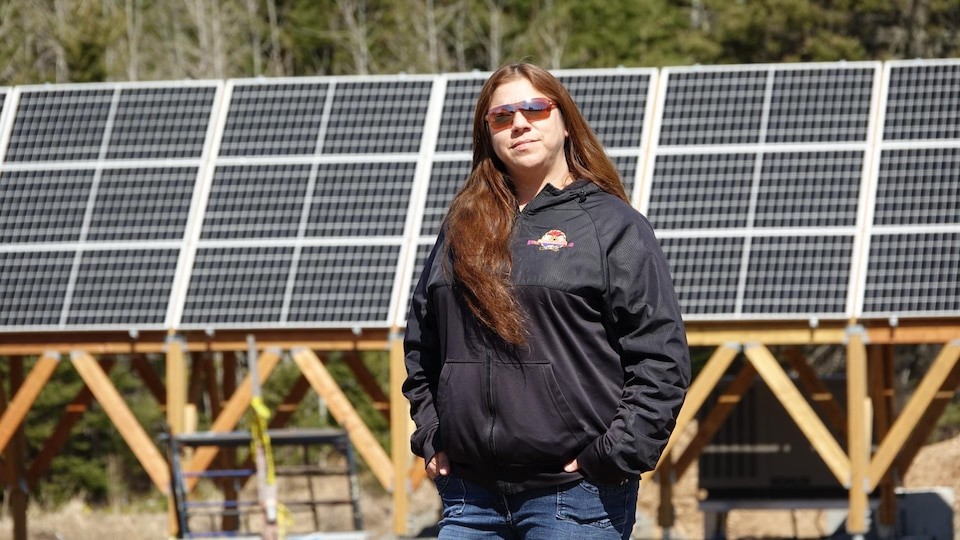 Bonnie Jerome comments on the quality of the relationship and collaboration with Nergica's project managers. 
Photo: Radio-Canada / Isabelle Larose
Ongoing research project
Measurement instruments have also been integrated into the facility to collect meteorological, production and consumption data. This equipment can be used to develop a smart controller that can anticipate energy demand and solar production based on forecasting models. The aim of this research project on the Relais de la Cache microgrid is to obtain the highest renewable penetration rate and ensure optimal management of the battery- and thermal-based storage system.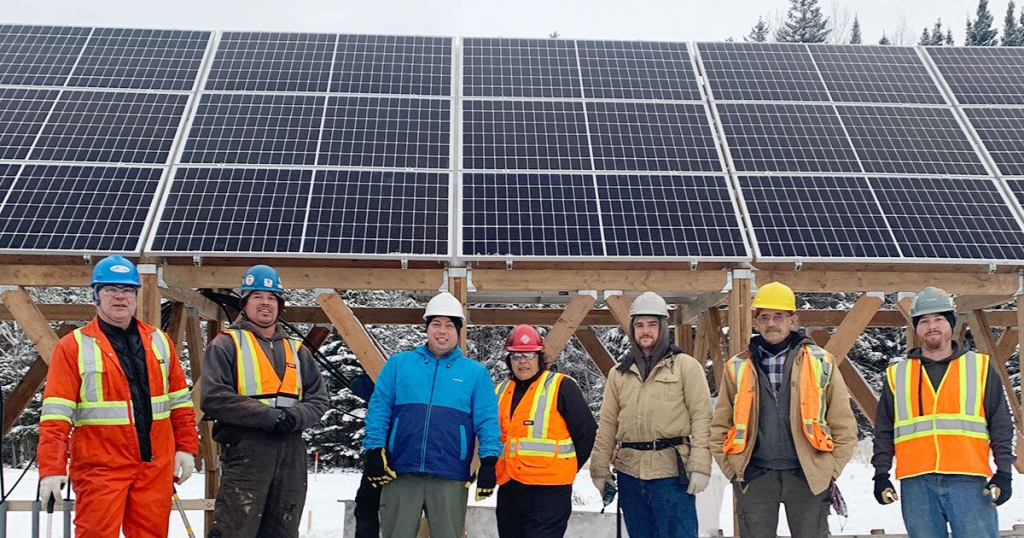 Installation of Relais de la Cache solar array
Photo: https://marlac.ca/en
A popular destination in an idyllic setting, an essential stopover for recreationalists, and now a technological curiosity and environmental model for other communities, Relais de la Cache is making headlines!
In fact, the Relais de la Cache microgrid was featured in a Radio-Canada article that can be found here, as well as a news report that can be viewed here or listened to here.