On October 14, 2021, join us in Montréal or virtually to tackle Canada's major renewable energy implementation challenges. The Transition Solutions Symposium, the first-of-its-kind conference, is dedicated to concrete solutions as well as the technological, social, and political innovations needed to drive the energy transition in Canada.
Nergica is very pleased to introduce the newest addition to our impressive line-up of eminent clean energy speakers. We are delighted to cooperate with Peter Tertzakian, deputy director of the Energy Research Institute, esteemed investment strategist, and international bestseller author. His expertise in geophysics, economics, and finance makes him an internationally recognized expert in energy issues.
In an effort to identify current issues pertaining to renewable energy deployment in the context of the energy transition, Nergica has gathered a dozen respected experts. Four of the topics of interest will be discussed on October 14. Stay tuned for the program of the 2022 Transition Solution Symposium scheduled to take place in Ottawa!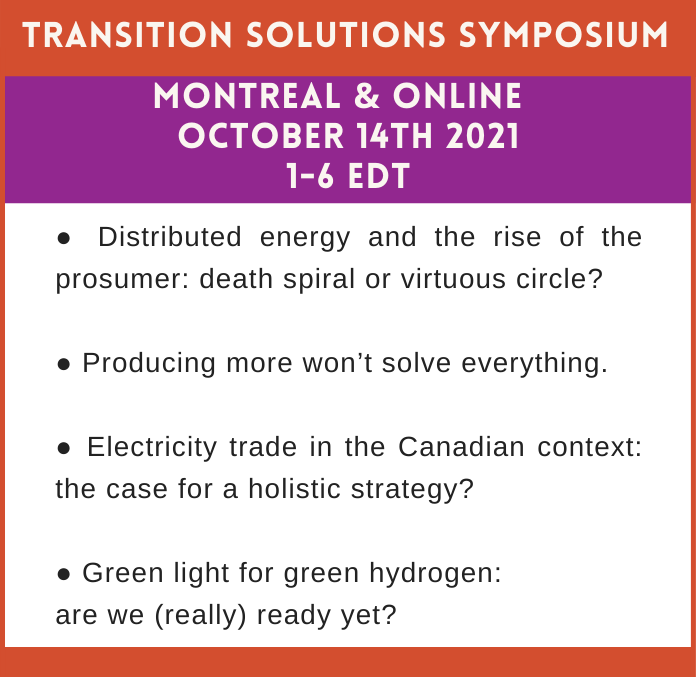 The transition path is both complex and daunting. Boldness, ingenuity, and innovation are essential to deploy clean energy solutions. The Transition Solutions Symposium is a unique space for key actors of the energy transition to discuss the build-out of renewable energy in Canada. Our dynamic sessions will feature an innovative format and a dozen or so distinguished speakers with extensive and diverse experience in the clean energy sector. The impressive speaker roster is available here. Don't miss the Transition Solution Symposium! Come be part of this event to share your perspectives, opinions and solutions.
There is still time to register to participate in the Transition Solution Symposium on October 14, whether in-person in Montréal or online!