On the sidelines of the 27th Conference of Parties (COP27), Nergica held the second edition of its Transition Solutions Symposium on November 15, 2022 at the Delta Hotel in Ottawa.
Building on the success of the first edition of this event, during which the need to accelerate the energy transition had been demonstrated, Nergica invited key names from the research, industrial and energy transition sectors to work together to develop concrete, far-reaching solutions to facilitate the rapid roll-out of renewables.
Nine experts from different backgrounds shared their views on what's slowing down Canada's energy transition. Under the guidance of Peter Tertzakian, Symposium moderator and deputy director of the ARC Energy Research Institute, panelists and participants discussed priority solutions in the fields of finance, labour force and development of the necessary infrastructure for the energy transition.
Key takeaways
To reach net zero, collaboration is essential. The energy transition is a society-wide construction site that requires contributions from a vast array of social, political and economic players.
The labour force is the driver of this transition. Considering the magnitude of future needs, it is important to properly plan workforce training, in addition to making education more accessible in this strategic sector. The role of colleges, institutes and universities is therefore fundamental.
Since the world will have to develop as much renewable energy capacity in the next five years as it was able to build over the past two decades, innovation in the cleantech sector must be sustained and prioritized by governments and businesses alike.
Opening address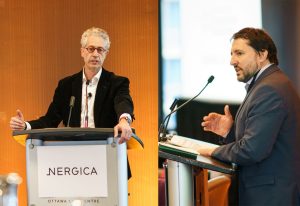 Speakers :
Peter Tertzakian, Deputy Director, ARC Energy Research Institute
Frédéric Côté, General Manager, Nergica
The urgent need for coordinated action was at the heart of the opening remarks made by Peter Tertzakian and Nergica General Manager Frédéric Côté.
"If we think about the challenges that await us and how ambitious we need to be to reach net zero by 2050, which is just 20 years away, there's a sense of urgency." – Peter Tertzakian
"Time is not on our side. Now more than ever, it is important to pool our forces and collaborate to accelerate the energy transition and achieve carbon neutrality. Nergica invites stakeholders to shift into solution mode and act with urgency." – Frédéric Côté
Though both agree that the programs set up to support the energy transition are not ill-conceived, the ambitious targets set by Canada and each of its provinces are far from being reached:
Quebec: 37.5% below 1990 levels by 2030
Ontario: 30% below 2005 levels by 2030
Canada: 40% below 2005 levels by 2030
Canada: net zero carbon emissions by 2050
However, several questions remain unanswered:
What are the winning conditions for a successful energy transition? What is lacking to speed up Canada's shift from fossil fuels to renewables? What types of solutions can we deploy today to spur rapid  action across the country? These are the questions that panelists and participants of the Transition Solutions Symposium were invited to address.
Discussion 1 – How can we better plan and finance the energy transition?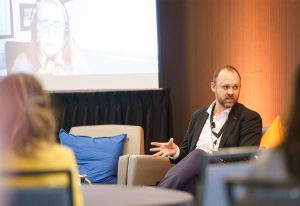 Speakers :
Peter Tertzakian, Deputy Director, ARC Energy Research Institute
Mark Chapeskie, Vice President of Program Development, Electricity Human Resources Canada
Sara M. Alvarado, Executive Director, Institute for Sustainable Finance 
Mark Chapeskie kicked off the first discussion on energy transition planning.
According to him, the renewable energy workforce is currently under pressure. The pandemic has brought about major demographic changes, not to mention the approximately 300,000 Canadians who have retired within the last year and who will have to be replaced. In addition to numerous already vacant positions, others will soon be created in the context of the energy transition. As a result, it will be increasingly difficult to find skilled labour to fill the positions needed for the renewables build-out. Indeed, according to available studies, it takes five years to acquire the necessary skills when starting "from scratch," which is highly problematic when one considers how little time we have!
"In the long term, we know that energy needs are poised to take a sharp upturn. Consequently, we will need at least one-and-a-half to twice as many specialists to keep pace with demand." – Mark Chapeskie
Sara M. Alvarado, executive director at the Institute for Sustainable Finance, agreed that shortages of skilled labour represent the main bottleneck to the acceleration of the energy transition. In fact, all too often, the funds are available, but it is the lack of resources to properly evaluate and qualify projects that hamper their deployment.
Currently, the finance industry, insurance companies and banks are all actively seeking new talent with expertise in sustainable development in order to meet growing demand in this sector. According to Sara, coursework in sustainable development should not be optional in finance program curricula. Anybody who studies finance should be familiar with sustainable development.
"At every level, decision-makers require support and access to advisors who are conversant in sustainable development to help make the right decisions." – Sara Alvarado
Pursuant to this initial discussion, participants were invited to address the following question: How can Canada ensure that the availability of labour and expertise do not represent an obstacle to a rapid transition?
Here is a quick glimpse at some of the solutions proposed:
Educate youth from a young age on the importance of the energy transition and encourage them to take an active part in it.
Promote professions in renewables and the energy transition, as well as the schools, colleges and universities that offer specialized programs in these fields.
Facilitate access to professional and technical training courses in remote communities in order to mitigate labour shortages and allow these communities to actively participate in the project.
Strengthen the ties between teaching establishments and businesses and develop mentoring programs.
Build bridges between training institutions and research centres to help them benefit from best practices and share information with colleges and universities in order to meet industry needs.
Train decision-makers and the workforce already in place and provide them with whatever support they need.
Discussion 2: How can we accelerate the roll-out of infrastructure and a rapid build-out of green alternatives?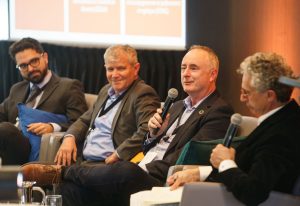 Speakers :
Peter Tertzakian, Deputy Director, ARC Energy Research Institute
Moe Kabbara, Director of Electrification, The Transition Accelerator
Yvan Cliche, fellow and senior energy researcher at CÉRIUM (Centre d'études et de recherches internationales de l'Université de Montréal) 
Stuart Galloway, Executive Vice President / Western Canada , SOFIAC
"Canada has all the natural resources it needs to carry out the energy transition, including solar, wind and hydro. We also have the money to achieve this. It's frustrating that we're unable to advance more quickly. Collaboration is so important." – Peter Tertzakian
Renewables and climate change expert Moe Kabbara immediately identified incoherent policies at various levels of governance as a stumbling block in the energy transition. He notably gave the example of utilities, which do not generally have the mandate of developing a carbon-neutral grid, but instead strive to offer the lowest rates possible. How can we ensure that the federal objectives set out for 2030 and 2050 are reflected in the strategies of provincial authorities and utility companies?
With his expertise in energy geopolitics, Yvan Cliche focused on growing energy needs and the vast and profound changes that will arise from them. For instance, rising renewable energy needs will translate into a proliferation of wind and solar farms, power lines and mining sites. The Canadian landscape will be transformed, and we will most likely be forced to look to China to ensure a stable supply of critical minerals.
Stuart Galloway, an expert in innovative financing structures, emphasized the fact that there is a lot of money to invest in projects, but that financing is not always accessible to invest in clean energy projects in a sound manner . Additionally, the lack of a long-term outlook when making decisions today will compromise our ability to reach net zero by 2050. For example, replacing a furnace or generator in 2022 will have a bearing on our future results.
"One of the problems or obstacles to investment is analysis paralysis. Quite simply, we need to stop producing endless reports and start taking action." – Stuart Galloway
Pursuant to this second discussion, participants were invited to address the following question: What is the main obstacle to building out a transition infrastructure and what are the solutions?
Here is a quick glimpse at some of the solutions proposed:
Reward the best-performing provinces with a carrot-and-stick approach.
Educate leaders with regard to the need for inter-provincial energy sharing.
Present the energy transition as a collective rather than individual challenge.
Study the resources of each region and identify custom solutions as a function of their location.
Depoliticize the energy transition and develop a unifying narrative to better convince stakeholders and the public at large.
Cultivate a sense of urgency.
"Collaboration is important, but it is essential to develop a more coherent form of collaboration." – Moe Kabbara
Round-table: Actions to accelerate the transition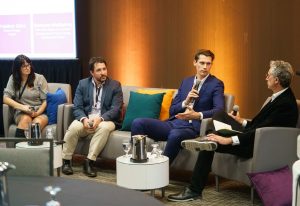 Speakers :
Peter Tertzakian, Deputy Director, ARC Energy Research Institute
Frédéric Côté, General Manager, Nergica
Brandy Giannetta, Vice President Policy, Regulatory & Government Affairs at Canadian Renewable Energy Association (CanREA)
Eamonn McGuinty, Senior Policy Advisor to the Minister of Environment & Climate Change, Government of Canada
"It's like trying to put together a puzzle. We know we have all the pieces, but we don't have the box with the picture on it. To succeed, we first need to understand what the puzzle we are trying to build looks like. We therefore need to have a clearer vision of what life will be like in a carbon neutral Canada and what we are trying to accomplish." – Frédéric Côté
To follow up on the first two discussions, Peter Tertzakian invited Frédéric Côté, Brandy Giannetta and Eamonn McGuinty to recap the challenges and solutions that had been mentioned to identify a few priority actions.
Representing the Honourable Steven Guilbeault, Eamonn McGuinty admitted that implementation of financing and grant programs was very slow-going and that businesses and individuals were not actively taking advantage of them. According to him, the lack of certainty with respect to the future of renewables prevents businesses and organizations from investing in them more aggressively. Mr. McGuinty suggested paying attention to what is taking place in the U.K. and Germany with regard to Carbon Contracts for Differences (CCFD), which help reduce uncertainties in future carbon prices. In fact, this type of contract eliminates the risk that a change in government or political instability might destabilize  the carbon price, thereby helping to stimulate investment in clean technologies.
According to Brandy Giannetta of the Canadian Renewable Energy Association (CanREA), we are facing a monumental issue that calls for the development of solutions to accelerate the energy transition. Speed of execution is critical, as is the importance of scaling up proven initiatives, regardless whether they relate to innovation, the regulatory process or training programs. Regarding the latter, she recalled that CanREA is actively collaborating with Electricity Human Resources Canada to take stock of the various training programs and certification needs, and ensure that different sectors are paired with instructors in order to quickly prepare the workforce needed for the transition.
Lastly, Frédéric Côté, Nergica's general manager, reminded attendees of the important role of applied research and, more generally, knowledge sharing. As a College Centre for Technology Transfer (CCTT) affiliated with the Cégep de la Gaspésie et des Îles, Nergica directly contributes to the training of the next generation of renewable energy specialists. Moreover, Frédéric pointed out the significant contribution made by colleges in training the workforce needed for the energy transition, citing the example of the Cégep de la Gaspésie et des Îles, which is currently adapting its electrical engineering curriculum to meet the needs of the wind industry. According to him, this is a solution that could easily be deployed at a larger scale.
Peter Tertzakian then went on to discuss the importance of collaboration in the sector while emphasizing the future challenges that remain to be overcome. It is on this note that that the second edition of the Transition Solutions Symposium drew to a close, with a number of takeaways regarding the contribution of each and every player in the Canadian energy transition sector and, especially, the urgent need to work together and act quickly.